The Aquapac Large Whanganui Electronics Case is the ideal waterproof case for an iPad so you can now take this delicate device to the beach or poolside without worrying about damaging it. The design ensures that you can easily operate the touchscreen through the material so you can forget that it even has a case on it!
The case can also be used to protect other items on trips, like phones and first aid kits which can then be slung over your shoulder thanks to the handy shoulder strap.
When your iPad or items are in the Aquapac Large Whanganui Electronics Case, you can be sure that they are safe from mud, sand, and water.
Features
This is our largest submersible case. With plenty of room to store all sorts of valuables.
As well as being 100% waterproof, it also protects your gear from dust, dirt and sand.
Like most of our cases it'll float if you drop it in the drink.
It comes supplied with a shoulder strap
The seams are high-frequency welded to form a super-strong bond.
The Aquaclip® (a patented, ultra-secure, rustproof, injection-moulded plastic seal) opens and closes with a simple twist of two levers, and everything stays in one piece even when open.
Fascinating Fact: The Whanganui River is a major river in the North Island of New Zealand. So now you know!
What's so special about this case?
■ You'll be able to talk and hear through it without a problem
■ and get great photos and video
■ and your touchscreen will work normally
■ It's not just 100% waterproof – it'll protect your phone from dust, dirt and sand too
■ You won't necessarily have to buy a new one when you upgrade your tablet device, because it's a generic rather than a form-fit case (unlike a hard case, it's not tailored to a specific device).
What Size Do I Need?
This large case is perfect for tablet PCs or travel essentials
Length: 295 mm (11.5 inches)
Circumference: 440 mm (17.3 inches)
This is the maximum size of device that will fit: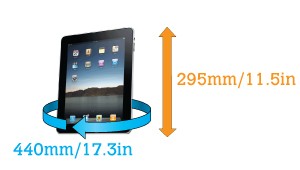 Tip: to get the circumference, add the width to the depth and then multiply this by 2
How waterproof is it?
Rated: IPX 8 
Submersible – protected against continuous immersion to a depth of 30 ft / 10 m