RUIKE P128-SB EDC FOLDING KNIFE, BLACK STONEWASHED FINISH, flipper, safety lock
Ruike P128-SB features a strong blade, 3.5 mm in thickness and made of 14C28N stainless steel, delivers razor sharpness and has a finely tapered tip, which is ideal for cutting, chipping and piercing.
Specifications
Type:  Manual Folding Knife
Overall Length:  217 mm / 8.54″
Closed Length:  124 mm / 4.88″
Weight:  159 g / 5.61 oz
Opening Mechanism:  Flipper
Locking Mechanism: Frame Lock "Beta Plus" Safety Lock
Pivot: Ball Bearing Washer
Weight Reduction Design: Yes
Pocket Clip:  Stainless Steel
Lanyard Hole:  Yes
BLADE
Length:  93 mm / 3.66"
Thickness:  3.5 mm / 0.14"
Material:  14C28N (58~60 HRC)
Grind:  Flat
Edge:  Plain
Finish: Black Stonewashed
HANDLE
Material:  3Cr14N Stainless Steel
Finish: Black Stonewashed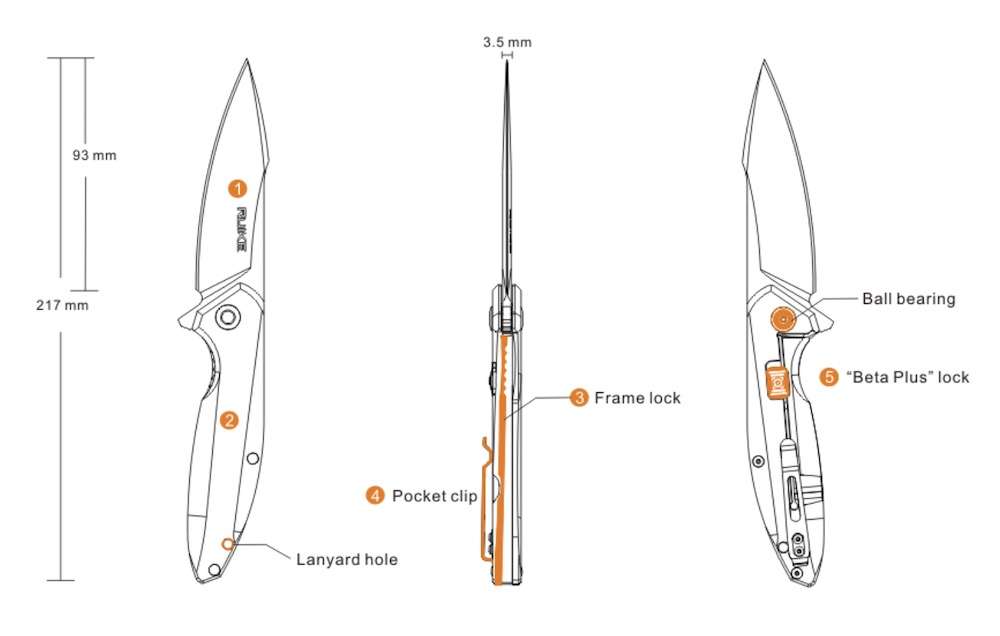 (1) Sandvik 14C28N Stainless Steel, 58~60 HRC
Sandvik 14C28N is a martensitic stainless chromium steel with a chemistry optimized for high quality professional knife applications which put very high demands on edge sharpness, edge stability and corrosion resistance. As to this knife, the 14C28N is intensively processed by RUIKE using quenching and subzero treatment, which features an ideal hardness of 58~60 HRC.
(2) 3Cr14N Stainless Steel Handle, Stonewashed
The 3Cr14N stainless steel features high standard in toughness, abrasive resistance and corrosion resistance. In addition, the stainless steel handle is stonewashed, allowing authentically fine and comfortable sense of touch.
(5) "Beta Plus" Lock
Deploying the blade and pushing the "Beta Plus" lock can transform your pocket-size folding knife into a fixed-blade knife to handle more harsh conditions.
(6) Ball Bearing
The pivot that connects the blade and handle is a ball bearing structure, which ensures that deploying the blade is a safe, quick and smooth action.
Warranty