RUIKE P841-L, ambidextrous thumbstuds, flipper, safety lock
RUIKE P841-L meets the demands of outdoor lovers and knife users. Besides flipper, the knife is fitted with a thumbstud in each side of the blade, it is ambidextrous for both hands. In addition, the ball bearing pivot makes the blade deployment more smooth. The locking mechanism which consists of a stainless steel liner lock and a back safety lock is highly reliable for blade fixing. The 3.5-inch long blade offers a fine tapered tip to pierce and a long blade point to slice. For secure-grip, the G10 handle is properly textured and contoured.
Specifications
Structure
Type: Manual Folding Knife
Overall Length: 208 mm / 8.19″
Closed Length: 118 mm / 4.65″
Weight: 140 g / 4.94 oz
Opening Mechanism: Flipper + ambidextrous thumb studs
Locking Mechanism: Liner lock + Safety lock
Pivot: Thrust Ball Bearing
Pocket Clip: Stainless Steel
Lanyard Attachment: Hole
BLADE
Length: 90 mm / 3.54″
Thickness: 3.1 mm / 0.12″
Material: 14C28N (58~60 HRC)
Grind: Flat (slight sabre)
Edge: Plain
Finish: Polished
HANDLE
Material: G10, Black/Green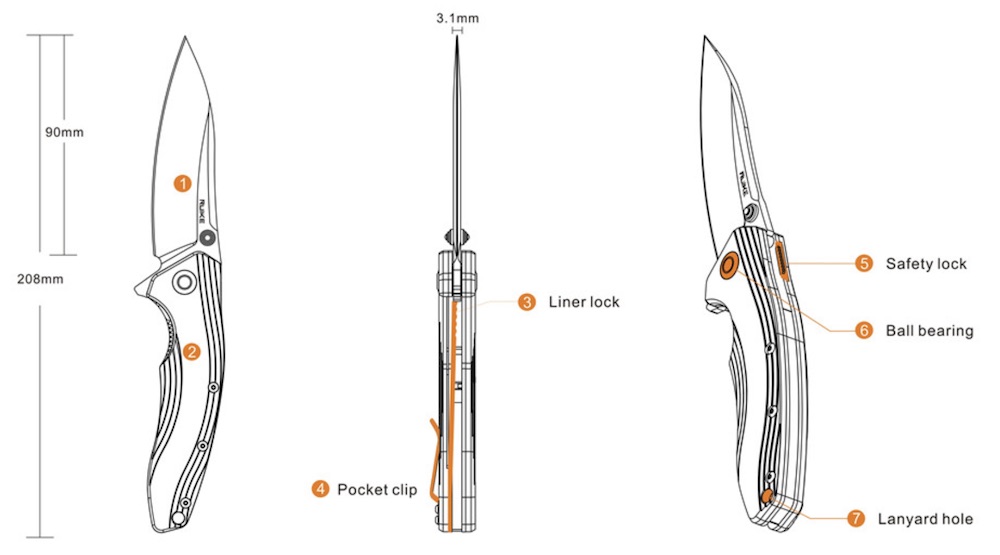 (1) Sandvik 14C28N Stainless Steel, 58~60 HRC
Sandvik 14C28N is a martensitic stainless chromium steel with a chemistry optimized for high quality professional knife applications which put very high demands on edge sharpness, edge stability and corrosion resistance. As to this knife, the 14C28N is intensively processed by RUIKE using quenching and subzero treatment, which features an ideal hardness of 58~60 HRC.
(2) G10 Knife Handle
RUIKE knife handles are a blend of fiberglass and resin, giving the knives the ability to withstand intense forces, preventing scrapes and general abrasion.
(5) Safety Lock
Pushing the safety lock up can make the locking mechanism more reliable and secure in preventing accidental blade closure during use.
(6) Ball Bearing
The pivot that connects the blade and handle is a ball bearing structure, which ensures that deploying the blade is a safe, quick and smooth action.
Warranty