Aquapac Waterproof iPad Mini Case 658 will protect all sorts of electronic devices including the iPad mini, the Kindle 3, and some Sony Readers.
What's so special about this case?
It means you can use your Kindle or iPad Mini safely outdoors even when it's wet – at the seaside, in the pool, or out in the pouring rain and your touchscreen will work normally.
What else do I need to know?
Some iPad Minis and Kindles will float in this case and some won't – make sure you test yours in a basin before you launch it into the sea!
Fingerprint recognition such as Apple's Touch ID won't work through the Aquapac – you will have to enter your passcode.
You can use a front-facing camera (e.g. FaceTime)
How waterproof is it? Submersible to a depth of 15ft/5m
Colour: Cool gray with acid green lanyard
Materials: 300mu UV-resistant TPU
Maximum Device Dimensions: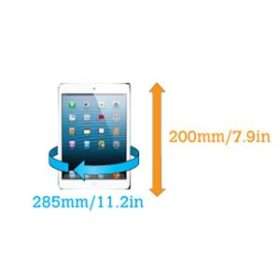 Weight: Case: 1.8oz / 52g  Lanyard: 0.2oz / 7g
Country of Origin: Made in the UK.
Warranty: Full 5-Year Warranty by Manufacturer
What else do I need to know?
This case is 100% PVC-free. It is made of a special TPU which is thin enough for you to use your touchscreen, but still remarkably strong.
The seams are high-frequency welded to form a super-strong bond.
The Aquaclip® seal opens and closes with a quick twist of four levers. And everything stays in one piece even when it's open.
Aquapac patented the Aquaclip system back in the 1990s and has sold over 5 million Aquapacs, the vast majority of which are sealed with an Aquaclip. So you can have confidence that the waterproofness of our system is well-proven!
Caution: It's not foolproof. If you're not careful you could get a hole in the case, or let water in when opening it. But as long as you treat it sensibly and carefully it should give you many years of use.