FRONTIER PRO ULTRALIGHT FILTER
The Frontier Pro Ultralight Filter has earned the stamp of approval from backpackers, preppers, and survivalists alike. Minimal weight, quality design and maximum connectivity are the signature features of this filter. Improved to include a replaceable GRN Line bacteria-grade filter, the Frontier Pro offers a robust 2 oz. defense against the common culprits that cause waterborne illnesses.
FEATURES
Replaceable GRN Line bacteria Filter with up to 500 ml/minute flow rate
Certified filtration for 50 gallons (over 180 L)
Ultralight and compact 2.5 oz. (71 g) packable protection
Replaceable filter design means highly cost-effective extra capacity capability
Connects to bottles, bags, bladders, and gravity systems via UQC quick connects
Includes three pre-filters to extend filter life and remove twigs and debris
Includes Miraguard™ Antimicrobial* Technology which suppresses the growth of bacteria, algae, fungus, mold and mildew within the filter media
Certified lead free (NSF/ANSI-372)
BPA free, chemical free, and iodine free
Filter made in the USA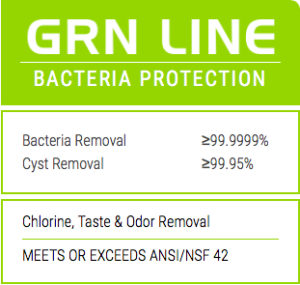 The Aquamira Frontier Pro ultralight water filter is the original multi use filter system. There have been many attempts to copy the functionality of the Frontier Pro but all fall short.. The ultralight compact design allow you to connect it to a Platypus® bag, use it terminal-end with your favorite hydration reservoir, or in a gravity flow configuration, it even converts to a straw filter or connects directly to a plastic water bottle. The Aquamira Frontier Pro is the only light weight multi function filter of it's kind that is certified* to EPA and NSF/ANSI standards so you can trust the filter to perform as claimed.
The Frontier Frontier Pro weighs in at only 2.5 ounces, fits anywhere, connects to most anything and is super versatile, all of which has made it the popular choice for lightweight hikers. The best part? It requires no backflushing, includes three pre-filters, has a replaceable GRN Line filter and patented bite valve with protective cap to keep it clean in the wild.
*Certifications by IAPMO R&T – An Authorized EPA, NSF/ANSI Certifying Agency
The Aquamira Frontier Pro has been completely redesigned from the ground up starting with an entirely new, replaceable GRN Line filter certified by IAPMO to remove bacteria and cysts to EPA standards and do it at a higher flow rates than the previous version. Now you can change out filters as needed and carry spares at under an ounce each.
Frontier GRN Line filtration is achieved using our unique 2 stage Electro-Positive Adsorption Technology. The replaceable pre-filter disk removes larger particles, then final charged micro-glass fibers "pull" organisms as small as bacteria out of the water stream while still maintaining high flow rates and low pressure drops. GRN Line filters have been thoroughly tested and are certified to remove protozoan cysts and bacteria to US EPA standards without the use of disinfecting chemicals such as chlorine, bromine, or iodine. The Frontier PRO is certified lead free (ANSI/NSF-372) and also reduces chlorine and harmful chemicals, bad tastes, and odors.
The patented design of the Frontier Pro filter system includes the unique Cap Strap™ cap system to retain the cap and protect the patented Bite Me™ valve from contamination and provides a sure grip on the filter that fits comfortably in your hand. The UQC (universal quick connect) allows connection to standard quick connect fittings, found on most hydration systems. The 28mm threaded base connects to bottles and Platypus® flexible bottles. You will be amazed that a filter this small can do so much.