This Aquapac Waterproof Phone Case 358 is a completely waterproof case to fit the iPhone 6 Plus 7 Plus and 8 Plus, the Google Pixel XL, the Samsung Galaxy Note 4 and same-sized phablets.
This is the second-largest of 5 'Classic' submersible phone cases.
The original waterproof phone case – and still the best!
What's so special about this case?
■ You'll be able to talk and hear through it without a problem
■ and get great photos and video
■ and your touchscreen will work normally
■ It's not just 100% waterproof – it'll protect your phone from dust, dirt and sand too
■ You won't necessarily have to buy a new one when you upgrade your phone, because it's a generic rather than a form-fit case (unlike a hard case, it's not tailored to a specific device).
Features
■ sandproof and dustproof too
■ It comes with a lanyard so you can hang it round your neck
■ It's securely, submersibly waterproofed thanks to the quick-action AQUACLIP® seal
■ The seams are welded together with high frequency radio waves, creating a super-strong bond
■ The optically-clear LENZFLEX window is UV-stabilized (so it won't go yellow in the sun)
■ and the case will still be soft and functional in the extreme cold.
Is this the right size for my phone?
This case fits iPhone 6 Plus 7 Plus 8 Plus and any phone the same size or smaller
If you have a bumper case on your phone you may want to consider the 368 'PlusPlus' size.
This is the maximum size of device that will fit: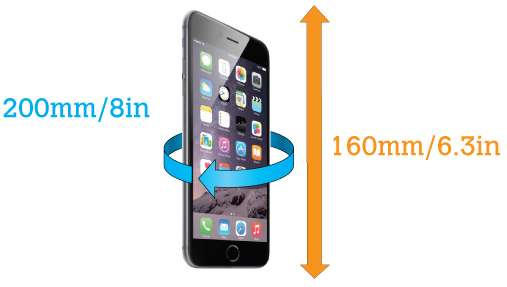 Tip: to get the circumference, add the width to the depth and then multiply this by 2
How waterproof is it?
Rated: IPX 8 
Submersible – protected against continuous immersion to a depth of 30 ft / 10 m
Specifications
Color: Cool gray with acid green lanyard
Materials: TPU with optically-clear LENZFLEX lens window
Weight: Case: 1.3 oz / 38 g  Lanyard: 0.2oz / 7g
Country of Origin: Made in the UK.
What else do I need to know?
Some smartphones can be very sticky. If your phone is shiny and sticky, pinch the corner of the case and jiggle it to get your phone in and out.
Some phones will float in this case and some won't – make sure you test yours in a basin before you launch it into the sea!
Capacitive touchscreens don't work underwater, the water breaks the circuit. But you can use the volume buttons to operate your camera underwater.
Fingerprint recognition such as Apple's Touch ID won't work through the Aquapac – you will have to enter your passcode.
Some phones have rather sharp edges. We recommend use of a thin bumper case which will protect both phone and case.
We offer a wide range of different phone cases. Click here to see the complete collection.