APZ TACTICAL 
Survival Kit
The new arrival from Adventure Pro Zone – APZ Tactical Survival Kit – ISK (Individual Survival Kit) kit contains 105 high quality items, in a very durable, weather resistant and lightweight  600D Nylon Military Pouch that allow to cary the kit on the belt, Backpack waist belt, or attached to backpack mole system. Of course, it can be placed inside of your backpack if room allows. The Tactical Survival Kit is very compact 17cm x 12cm x 6cm and weight is only 630g, however, the kit is such complete and versatile so no other kit in this size could possibly make a competition. The kit includes lightweight Smith&Wesson Tactical Knife with 7Cr17 steel tanto blade, an excellent 5-modes (High, Medium, Low, Strobe, S.O.S. strobe) LED 1000lm flashlight.
Furthemore, a very compact first aid kit with basic medications, antibiotic ointment, premium branded bandages, and even thermometer is included and can help you to diagnose your body temperature (important with pre-hyperthermia condition). The kit includes many Military approved items to make this one of our, sure to be, best-selling survival kits.
APZ Tactical Tactical Survival Kit is extremely well stocked.
Tactical Survival Kit SUPPLY LIST  (105 ITEMS)
Tools and Repair
(1) Smith & Wesson CK5TBS Tactical Pocket Knife, Blade Material: 7Cr17 – This is a high carbon martensitic stainless steel with moderate corrosion resistance good strength and the ability to obtain and keep excellent hardness (Rc 56) and wear resistance.
(1) Compact Duct Tape (Made in USA)
4.5m (15 ft) Fish 'n Fire 550 Survival 100% Nylon Paracord Type III (see the details below). Made in the USA.
(1) UST Pocket Wire Saw,
(1) Military P-38 Can Opener
(1) BG Personal Sewing Kit w/6 Safety Pins (Assembled in the USA) 14 items:
(1) Bobbin #69 Quality Nylon Thread
(2) Heavy Duty Needles
(2) Heavy Duty Pins
(6) Safety Pins
(2) Buttons
(1) Needle Threader
Food Gathering and Hydration
(1) WhirlPak 1L Stand-Up Sterile Water Bag. 4 mil. thickness, sealed and sterile, leakproof closure, Stand-up. Patented Puncture-Proof Tabs. 5″ x 15″.  Use to purify collected water using one (1) MP1 tablet. Made in the USA.
(6) Katadyn MicroPur MP1 Water Purification Tablets (U.S. Military Issue/Approved),1 tablet purify and disinfect 1L of water. Allow 30 minutes for the purification process to complete. Made in the USA.
(2) Coffee Paper Filter (water straining prior to purification),
(1) Mid-duty 6″ x 9″ 2.4 MIL Zip bag (stores the 3 water treatment items above), use it to collect water.
3m (10 ft) Snare Wire 22 Ga( food gathering/equipment repair),
(1) Heavy Duty Aluminum Foil, 60cm x 60cm (2 ft x 2 ft)
(1) Best Glide Survival Compact Fishing Kit (Assembled in USA) 22 items:
● Tin – (1) Heavy Duty Zip Lock Bag 6 mil
● Jig – (1) Swirl Tail Grub
● Jig – (1) Tiny Shad
● Jig Head – (2) 1/16 Unpainted Round
● Bait – Salmon Eggs
● Desiccant – (1) Moisture Absorbing Packet
● Hooks – (2) #4
● Hooks – (2) #6
● Hooks – (2) #8
● Leaders – (1) Wire Wound Leaders
● Split Shot – (3) BB
● Split Shot – (3) 3/0
● Bobber – (1) Tooth Pick Float
● Line – (50 ft) 12LB
Signalling and Navigation
(1) Quality Pocket LED Flashlight, 1000lm, 5 Modes (High, Medium, Low, Fast Strobe, S.O.S. Strobe), Aircraft Aluminium body, waterproof, O-rings. Uses 2 x CR123A or 1 x 18650 rechargeable battery (batteries not included). Made in China.
(1) Micro-Light LED Keychain Flashlight. Battery included.
(1) NDuR Safety Whistle 51210
(1) Best Glide Compact Signal Mirror. Made in the USA
(1) Survival Button Compass, 25 mm
2m (6 ft) Orange Trail Tape
(1) Rite in the Rain Mini Notebook #971TFX-M (Waterproof and Weatherproof Notebook, Colour: Tan) Made in the USA
(1) Pencil, wood
Fire and Warmth
(1) Beeswax Tea Light Candle (6-hour burn time, Made in USA), Great to use in your shelter as long last illumination and some source of warmth.
(1) Mini Beeswax Candle 3″ x 1/4″(35 minutes burn time, Made in the USA). Great help to start fire or have a light in your hand.
(1) Fresnel Lens Fire Starter,
(1) PYROPAC Gel Fuel, burns 15 minutes, will get few cups of water boiled easy. Made in the USA.
(1) UST WetFire Tinder, sealed in pouch.
(1) APZ Mini Flint Fire Starter with 50cm Fish&Fire cord. This paracord includes a fire tinder jute. Assembled in Canada from US and International components.
(4) Adventurer Fire Starting Tabs,
(10) UCO All Weather Stormproof Matches with two strikers, sealed in a poly bag
(1) Space Survival Blanket, silver, 213 cm x 132 cm
First Aid
(1) Essential First Aid Kit (Assembled in Canada) – Includes the following (19 items):
(1) Aspirin, 2-pack
(1) Non-Aspirin™ Pain Relief (Acetaminophen 500 mg, equal to Tylenol Extra-Strength), 2-pack
(1) Pain-Off™ (Acetaminophen 250mg, Aspirin 250mg, Caffein 65mg), 2-pack
(1) Ibuprofen (I-Prin) 200 mg, equal to Advil, Anti-Inflammatory, 2-Pack
(2) Sting Relief towelettes
(2) LORIS™ Alcohol prep pads
(2) Triple antibiotic ointments
(2) LORIS™ 10% PVP-I antiseptic swabs
(2) Gauze Pad, 12-ply, Sterile – 5 x 5 cm
(3) Premium CURITY Flexible Fabric Bandages 2.5cm x 7.6cm
(1) Premium CURITY Flexible Fabric Large Bandage 5.1cm x 9.5cm
(1) Dempa-DOT Single-Use Clinical Thermometer
Package and Other Items
(1) Weather Resistant 600D NYLON High Quality Pouch 17cm x 12cm x 6cm with  (1) Canadian "SUCK LESS" Velcro Patch and (1) Molle Web Dominator holder
(1) aLOKSAK 15.9cm x 13cm (inner dimensions) Durable and Waterproof Bag with patended 6 MIL film and patented Hermetic double-seal (stores most of the kit content). 30 meters depth waterproof. In case of emergency use it to protect your smartphone or iPhone. All Touch Screen Electronics Work 100% While Protected in the aLOKSAK.
(1) 3M™ Foam Uncorded Earplug
(1) APZ Survival Instructions (Made in Canada).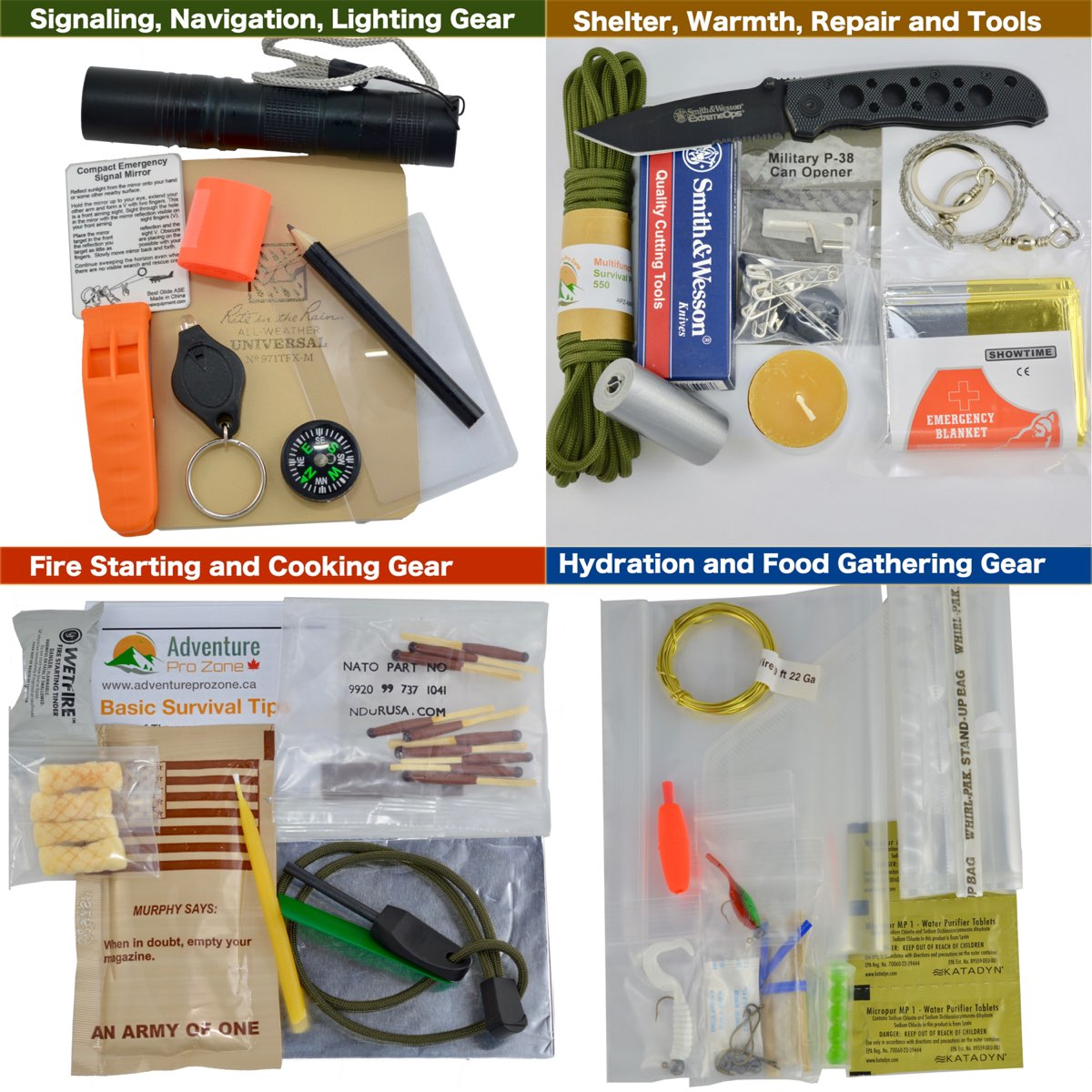 \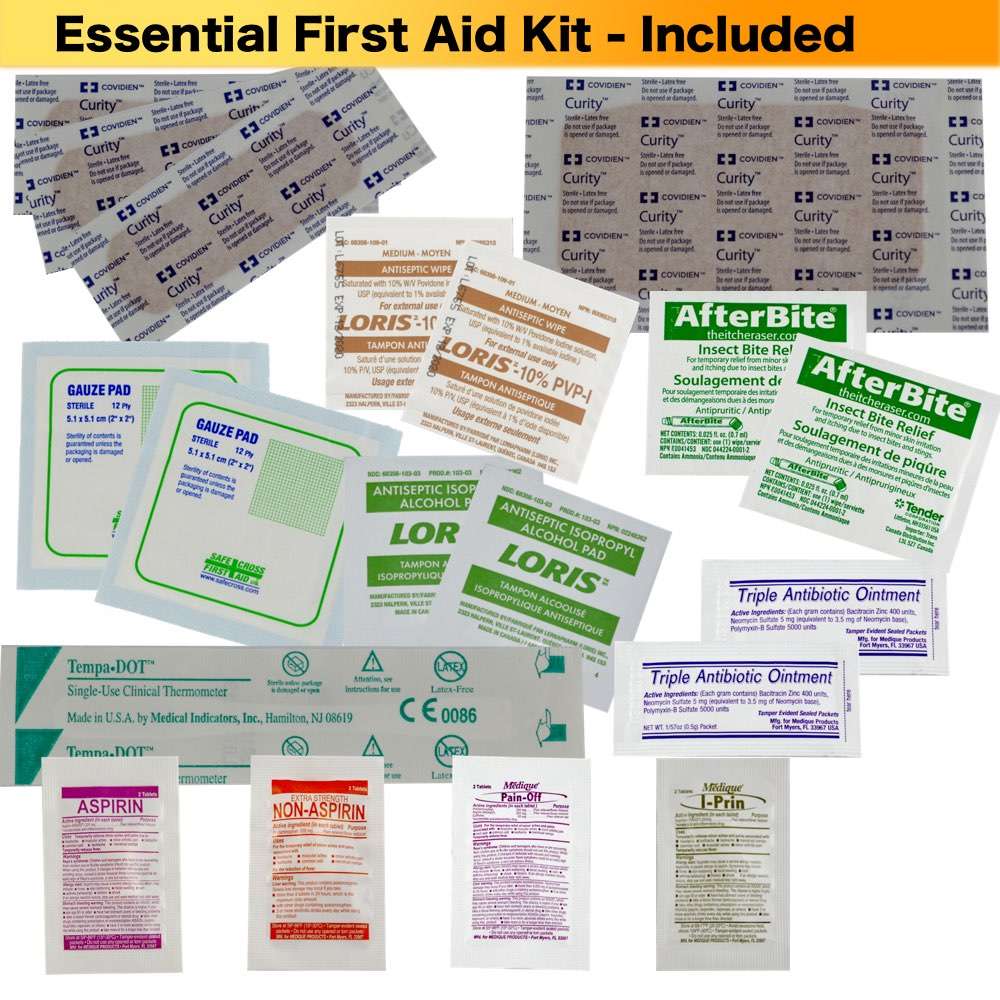 ADDITIONAL SPECIFICATIONS
SMITH&WESSON CK5TBS FOLDING TANTO KNIFE SPECIFICATIONS
CK5TBS Product details page – click here
Type: Manual Folding Knife
Overall Length: 188 mm
Closed Length: 106 mm
Weight: 85 g
Opening Mechanism: Thumb stud
Locking Mechanism: Liner Lock
Pocket Clip: Stainless Steel
Lanyard Attachment: Hole
Blade Length: 82 mm
Blade Thickness: 2.85 mm
Blade Material: 7Cr17 – This is a high carbon martensitic stainless steel with moderate corrosion resistance good strength and the ability to obtain and keep excellent hardness (Rc 56) and wear resistance.
Grind: High Flat
Edge: Partially Serrated
Handle Material:  Aluminum
Lightweight Design: Yes
FISH 'N FIRE SURVIVAL CORD 550, Type III, SurvivorCord
This 550 Survival Cord is manufactured with 100% nylon raw materials and offers a full seven strand core. Made in the USA by E.L. Woods Braiding Co. – the certified and approved as a direct supplier to the United States Department of Defence.
The FISH 'N FIRE Survival Type III Commercial Grade 550 Cord features seven individual inner core cabled strands plus 2 additional jutes: Fire tinder jute and 12 lb fishing line. The inner Nylon core strands not only serve to add strength to the overall product integrity, but sections of the core can be used as sewing thread, fishing lines, and many other survival uses. This cord is great for outdoor camping, hunting, tactical, survival bracelets and more. The nylon material is very strong and pliable and seen as a standard "must have product" by many hunters and backpackers.
FISH 'N FIRE SURVIVAL CORD 550, Type III Specifications
Features SEVEN 100% NYLON individual inner core strands that are cabled. This is Commercial Grade paracord manufactured in the USA by E.L. Woods Braiding Co. with the same quality and standards as their certified MIL-C-5040 parachute cord.
FISHING LINE – A single transparent strand of12 lb. strength mono-filament fishing line. This line is great for fishing small to medium size fish.
FIRE TINDER waterproof twisted fiber jute, designed to quickly start fires in an emergency.
Colour: OD Green (Military Green)
Made in the USA (manufactured by E.L. Woods Braiding Co.)