APZ HUNTER Survival Kit, ISK
The new arrival from Adventure Pro Zone – APZ Hunter Survival Kit – ISK (Individual Survival Kit) contains 102 high quality items, in a very durable, weather resistant and lightweight  600D Nylon Military Pouch that allow to cary the kit on the belt, Backpack waist belt, or attached to backpack mole system. Of course, it can be placed inside of your backpack if room allows. The Hunter Survival Kit is very compact 17 cm x 12 cm x 6 cm and weight is only 585 g (with knife), however, the kit is such complete and versatile so no other kit in this size could possibly make a competition.
The kit includes extremely lightweight (45 g) Smith & Wesson SWPRO-BK Pocket Protector Folding Knife with 440C SS Blade. A very compact first aid kit with basic medications, antibiotic ointment, premium branded bandages. A single-use thermometer is also included and can help you to diagnose your body temperature (important with pre-hyperthermia condition). The kit includes many Military approved items to make this one of our, sure to be, best-selling survival kits.
S&W knife shipped in the original OEM package with manual / instructions and torx key.
Hunter Survival Kit SUPPLY LIST (102 ITEMS)
Tools and Repair
(1) Smith & Wesson SWPRO-BK Pocket Protector Folding Knife, Blade Material: Black Teflon coated 440C steel – This is stainless steel with a minimum of 1.2% carbon This is the hardest of the 440 series, It takes more abuse however it also rusts more easily than the other 440 series stainless steels. 440C can achieve a 60 HRC. At one time it was considered a stainless "Super Steel"
(1) UST Roll Compact Duct Tape, Orange
3 m (10 ft) Fish 'n Fire 550 Survival 100% Nylon Paracord Type III (see the details below). Made in the USA.
(1) UST Pocket Wire Saw,
(1) BG Personal Sewing Kit w/6 Safety Pins (Assembled in the USA) 14 items:
(1) Bobbin #69 Quality Nylon Thread
(2) Heavy Duty Needles
(2) Heavy Duty Pins
(6) Safety Pins
(2) Buttons
(1) Needle Threader
Food Gathering and Hydration
(1) WhirlPak 1L Stand-Up Sterile Water Bag. 4 mil. thickness, sealed and sterile, leakproof closure, Stand-up. Patented Puncture-Proof Tabs. 5″ x 15″.  Use to purify collected water using one (1) MP1 tablet. Made in the USA.
(4) Katadyn MicroPur MP1 Water Purification Tablets (U.S. Military Issue/Approved),1 tablet purify and disinfect 1L of water. Allow 30 minutes for the purification process to complete. Made in the USA.
(2) Coffee Paper Filter (water straining prior to purification),
(1) Mid-duty 6″ x 9″ 2.4 MIL Zip bag (stores the 3 water treatment items above), use it to collect water.
(1) SOL Survival Towel. Use to filter water, to collect water from leaves and stones, for personal higiene, and many other uses.
3m (10 ft) Snare Wire 22 Ga( food gathering/equipment repair),
(1) Heavy Duty Aluminum Foil, 60cm x 60cm (2 ft x 2 ft)
(1) Essential Survival Standard Fishing Kit (Assembled in Canada) 19 items:
(1) Heavy Duty Zip Lock Bag
(1) Jig – Tiny Shad
(1) Jig Head 1/16 Unpainted Round
Bait – Salmon Eggs
(1) Desiccant – Moisture Absorbing Packet
(2) Hooks #4
(2) Hooks #6
(2) Hooks #8
(3) Split Shot – BB
(3) Split Shot – 3/0
(1) Bobber – Tooth Pick Float
(50 ft) Fishing Line 12LB
Signalling and Navigation
(1) Micro-Light LED Keychain Flashlight. Battery included.
(1) NDuR Safety Whistle 51210
(1) Best Glide Adventurer Night Tracker Button Compass, liquid filled
(1) Best Glide Compact Signal Mirror. Made in the USA
2m (6 ft) Orange Trail Tape
(1) Rite in the Rain Mini Notebook #371FX-M (Water Proof Writing Paper). Made in the USA
(1) Pencil
Fire and Warmth
(1) 100% Pure Beeswax 4″ x 1/2* Candle (1 hour and 50 minutes burn time, Made in USA),
(1) Fresnel Lens Fire Starter,
(1) PYROPAC Gel Fuel, burns 15 minutes, will get few cups of water boiled easy. Made in the USA.
(1) UST WetFire Tinder, sealed in pouch.
(1) Mini Flint Fire Starter with 50cm Paratinder. This paracord includes fire tinder red jute. Assembled in Canada.
(4) Adventurer Fire Starting Tabs,
(10) UCO All Weather Stormproof Matches with two strikers, sealed in a poly bag
(1) Survival Blanket, Orange/silver, 56″ x 90″
(1) Pair of Air-Activated hand warmers.
First Aid
(1) Essential First Aid Kit (Assembled in Canada) – Includes the following (19 items):
(2) Non-Aspirin™ Pain Relief (Acetaminophen 500 mg, equal to Tylenol Extra-Strength), 2-pack
(2) Ibuprofen (I-Prin) 200 mg, equal to Advil, Anti-Inflammatory, 2-Pack
(1) Medi-Lyte (electrolyte replacement) 2-pack
(3) AfterBite™ Insect Bite Relief towelettes
(2) LORIS™ Alcohol prep pads
(2) Triple antibiotic ointments
(2) LORIS™ 10% PVP-I antiseptic swabs
(2) Gauze Pad, 12-ply, Sterile – 5 x 5 cm
(3) Premium CURITY Flexible Fabric Bandages 2.5cm x 7.6cm
(1) Premium CURITY Flexible Fabric Large Bandage 5.1cm x 9.5cm
Package and Other Items
(1) Weather Resistant 600D NYLON High Quality Pouch 17cm x 12cm x 6cm with  (1) Canadian "MOLON LABE" Velcro Patch.
(1) aLOKSAK 15.9cm x 13cm (inner dimensions) Durable and Waterproof Bag with patended 6 MIL film and patented Hermetic double-seal (stores most of the kit content). 30 meters depth waterproof. In case of emergency use it to protect your smartphone or iPhone. All Touch Screen Electronics Work 100% While Protected in the aLOKSAK.
(1) Lens Cleaning Wipe (clean rifle scope, glasses, etc).
(1) 3M™ Foam Uncorded Earplug
(1) APZ Survival Instructions (Made in Canada).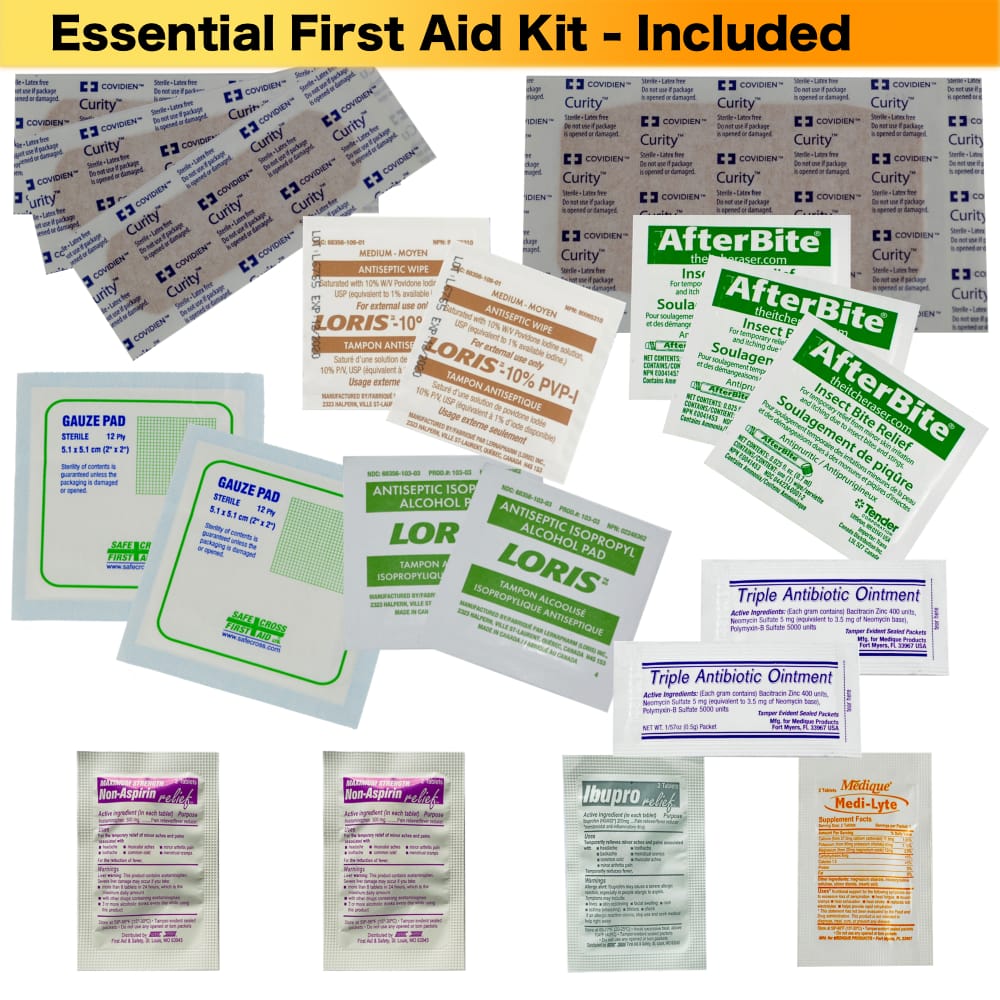 ADDITIONAL SPECIFICATIONS
Smith & Wesson SWPRO-BK Pocket Protector Folding Knife
SWPRO-BK Product details page – click here
Smith & Wesson has been manufacturing, designing and distributing high-quality stainless steel knives and accessories since its inception. S&W is also renowned for their specialty items and custom designed pieces. SWPRO-BK Pocket Protector is constructed from 440C steel with a 2.625″ blade and 3.250″ overall.
FEATURES AND SPECIFICATIONS
Part number: SWPRO-BK
Black Teflon coated 440C steel blade
Black Anodized stainless steel handle.
Thumb stud
Cast metal framelock handle
Pocket clip
Blade Type: fine edge / plain edge
Blade Length: 2-1/2″
Length Closed: 3-1/4″ / 8.3cm
Carabiner clip (non-load bearing)
Torx Key to disassemble / assemble knife is included
Weight: 1.5 Oz / 43g
Fish-N-Fire Multifunctional PARACORD, SurvivorCord, Made in USA
Lightweight Multifunctional Paracord 550 – Seven individual 3-ply braided core nylon strands that have been pre-shrunk for quality, plus extra two survival strands below:
FISHING LINE –  clear, 8 lb., high-strength mono-filament fishing line that can be used to not only fish in both fresh water and salt water, but can also be used to bind rudimentary tools.
The waterproof FIRE-TINDER strand is made from paraffin-impregnated waterproof twisted fiber jute, and it is completely odorless! We have soaked it underwater for hours, and we were still able to start a roaring fire with it, with just a few quick sparks from a fire-steel. This is the best fire-starting strand on the market.  Even in a downpour, a couple sparks start the fire right up.